Frankfort KY is a short drive from Butler County.
Architecture, American History, and Amusement: A day trip to Frankfort Kentucky.
May 9, 2021 at 7:36 p.m.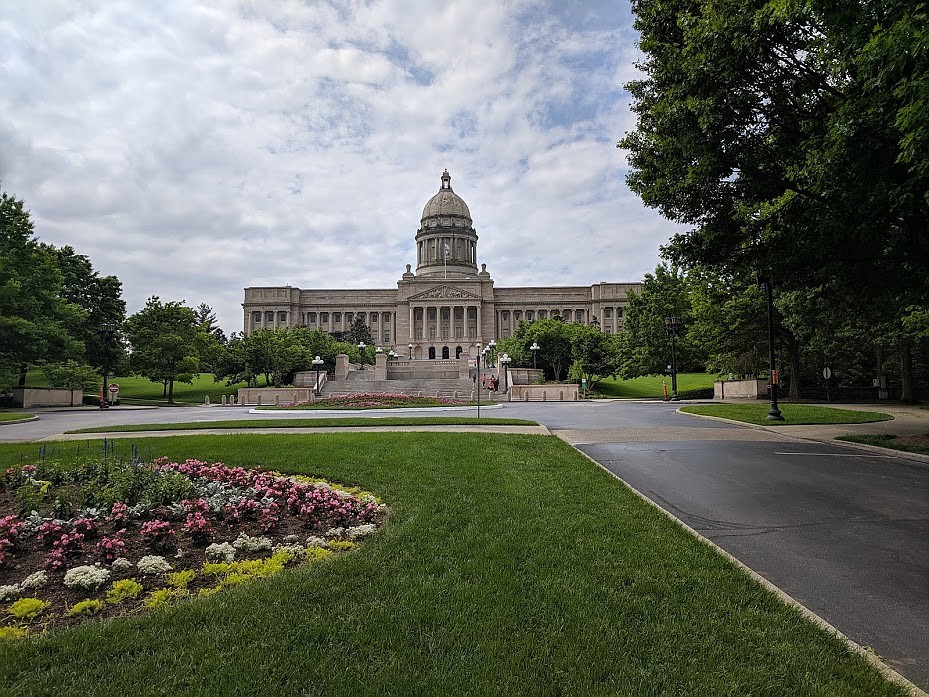 ---
---
Daytrip: Destination: Frankfort, Kentucky.
As Spring fades into Summer and local schools take summer breaks, families across Butler County will begin to explore sites and cities located nearby. This week, in our day trips from the Butler County Connect series, we travel to the state capital of Kentucky, Frankfort Kentucky. 
This sleepy little Kentucky city boasts a population of slightly over twenty-five thousand people. Founded in 1792, Frankfort was named after Stephen Frank. Mr. Frank was killed by the Indians as he was making salt near a ford on the Kentucky River. Over time the name morphed from Frankford to the name we call Kentucky's capital city today, Frankfort. 
 Kentucky State Capitol building. Photo credit E. Todd Fowler
A trip to Frankfort Kentucky would not be complete without taking a walk around and touring the inside of the state capitol building. After five years of construction, in 1910, the Beaux-Arts architecture style grand structure was dedicated and opened to the public. The building houses all three branches of the Kentucky state government. The grounds and landscaping are maintained with impeccable attention to detail.  While near the Capitol building be sure to walk by the east lawn, and view the Kentucky Governor's mansion. Both buildings are listed on the National Register of Historic Places.
 Kentucky Governor's Mansion. Located on the east lawn of the Capitol grounds. Photo credit public domain.
The Frankfort Cemetery is the final resting place of Daniel and Rebecca Boone, seventeen former Kentucky governors, and a vice president. The Kentucky Military Memorial is a notable monument located in the cemetery. This monument pays homage to Kentucky's war heroes. The view from Daniel and Rebecca Boone's gravesite encompasses all of Frankfort. A stop at the historic gravesite is a must for all first-time visitors. 
 Frankfort Cemetery gravesite of Daniel and Rebecca Boone. Photo credit E. Todd Fowler
It takes about two hours to drive to Frankfort. The city is full of historical markers making it easy to learn the rich American history Kentucky is known for from the comfort of your vehicle. There are city parks, local museums, and a quaint downtown area to stroll and enjoy. There is plenty to do and see while in Frankfort Kentucky. 
Latest Stories
---
OHIO STATE PARKS COLLABORATES WITH HAIKU NORTH AMERICA TO CELEBRATE THE ART OF POETRY IN A PICTURESQUE SETTING
First Haiku Trail to Open at Hueston Woods State Park, Unveiling Nature's Beauty in Poetic Form
Ohio State Parks collaborates with Haiku North America to celebrate the art of poetry in a picturesque setting
---
Ohio House Passes Patient and Health Provider Protection
Ohio House Passes Patient and Health Provider Protection
---
ON JUNE 20, 2023, DUSTIN SCOTT LYKINS OF MIDDLETOWN, OHIO WAS INDICTED BY THE BUTLER COUNTY GRAND JURY ON CHARGES OF MURDER AND FELONIOUS ASSAULT.
Scott Lykins of Middletown, Ohio was indicted by the Butler County Grand Jury on charges of murder and felonious assault.
On June 20, 2023, Dustin Scott Lykins of Middletown, Ohio was indicted by the Butler County Grand Jury on charges of murder and felonious assault.
---
SUPPORT WEST CHESTER POLICE, SPECIAL OLYMPICS JUNE 21
Police Officers and local Special Olympics athletes are teaming up once again to complete a leg of the 2023 Law Enforcement Torch Run for Special Olympics through our corner of Butler County, Ohio.
---
DIGITAL MARKETING IN BUTLER COUNTY
Butler County Ohio's Premier Digital Marketing Services, LLC: Boosting Local Businesses and Non-Profits
With its expert management and an extensive reach of 35,000 social media accounts, Digital Marketing Services, LLC is revolutionizing the way organizations connect with their target audience.
---