Daytrip: What does a President, a Professional Race Car Driver and a Bank Robber have in common?
October 19, 2019 at 6:16 a.m.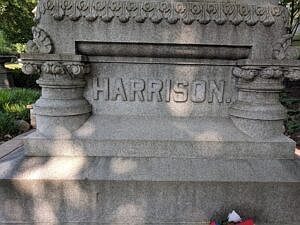 ---
---
Daytrip from Butler County: Halloween Edition! 
Find their gravesites at Crown Hill Cemetery in Indianapolis. If they could tell their story...
A monument to local and national heritage, Crown Hill Cemetery in Indianapolis, Indiana is a must-see for history buffs and 'taphophiles. A two-hour drive from Butler County, the graveyard houses a U.S. president, famous Indy 500 drivers, notorious criminals, and thousands of other notable characters from our nation's past.Former President and Butler County resident Benjamin Harrison is buried in section 13 cemetery. The 23rd president, who served from 1889 to 1893, is buried with his first wife, his second wife, and his son and daughter.
 The cemetery is home to three vice presidents. Charles Fairbanks, a Republican who served as vice president under Theodore Roosevelt, is buried in section 24 of the cemetery. Thomas Hendricks, who served under Grover Cleveland, is buried in section 29. Thomas Marshall, who served under Woodrow Wilson, is buried above section 23. The cemetery is also the final resting place of VP nominees George Washington Julian, William Hayden English, and John W. Kern.Eleven Indiana governors are buried at Crown Hill, along with a Kentucky governor and a Vermont governor. Dozens of senators, representatives, mayors, ambassadors, military generals, cabinet officials, and other government officials are buried at the historic graveyard.Actor James Baskett, the first African-American to win an Academy Award, is buried in the cemetery, along with Sudoku inventor Howard Garns, Pulitzer Prize-winner Booth Tarkington, ragtime composer Cecil Crabb, and thousands of other history makers. 
John H. Dillinger Jr
Perhaps one of the darker parts of the cemetery is the burial site of the notorious 20th-century bank robber John Dillinger. After being shot by FBI special agents in 1931, Dillinger's body was put on display for a day and a half, and then it was buried at Crown Hill, marked by a modest gravestone.
Many famous entrepreneurs and business leaders have been interred at Crown Hill. These include Target Stores founder John F. Geisse, Lilly Pharmaceuticals founder Col. Eli Lilly, Ayres Department Stores founder Lyman S. Ayres, and former Indianapolis Colts owner Robert Irsay.
Indianapolis Racing Stars
Many Indianapolis racing stars are buried at Crown Hill. Indy 500 winners Floyd Davis, Louis Schneider, Howdy Wilcox, and Jim Hurtubise are buried in the graveyard. Automotive manufacturers Daniel Marmon, David Parry, Charles Black, and Frank Fox are also resting at Crown Hill, along with Indianapolis Motor Speedway founders James A. Allison, Frank Wheeler, Arthur Newby, and Carl Fisher.
Many special memorials are located at Crown Hill, reminding visitors of past dwellers of Indiana. The National Cemetery is the resting place of over 795 union soldiers. A special monument memorializes Confederate soldiers who died at Camp Morton prison in Indianapolis. Another monument remembers the numerous victims of AIDS that have died in Indiana.Located at 770 W. 38th Street in Indianapolis, Indiana, Crown Hill Cemetery is one of the most historic and iconic cemeteries in the world. Open to the public dawn to dusk, the cemetery also offers seasonal guided tours. For more information about this necropolis, visit crownhill.org
Latest Stories
---
OHIO STATE PARKS COLLABORATES WITH HAIKU NORTH AMERICA TO CELEBRATE THE ART OF POETRY IN A PICTURESQUE SETTING
First Haiku Trail to Open at Hueston Woods State Park, Unveiling Nature's Beauty in Poetic Form
Ohio State Parks collaborates with Haiku North America to celebrate the art of poetry in a picturesque setting
---
Ohio House Passes Patient and Health Provider Protection
Ohio House Passes Patient and Health Provider Protection
---
ON JUNE 20, 2023, DUSTIN SCOTT LYKINS OF MIDDLETOWN, OHIO WAS INDICTED BY THE BUTLER COUNTY GRAND JURY ON CHARGES OF MURDER AND FELONIOUS ASSAULT.
Scott Lykins of Middletown, Ohio was indicted by the Butler County Grand Jury on charges of murder and felonious assault.
On June 20, 2023, Dustin Scott Lykins of Middletown, Ohio was indicted by the Butler County Grand Jury on charges of murder and felonious assault.
---
SUPPORT WEST CHESTER POLICE, SPECIAL OLYMPICS JUNE 21
Police Officers and local Special Olympics athletes are teaming up once again to complete a leg of the 2023 Law Enforcement Torch Run for Special Olympics through our corner of Butler County, Ohio.
---
DIGITAL MARKETING IN BUTLER COUNTY
Butler County Ohio's Premier Digital Marketing Services, LLC: Boosting Local Businesses and Non-Profits
With its expert management and an extensive reach of 35,000 social media accounts, Digital Marketing Services, LLC is revolutionizing the way organizations connect with their target audience.
---