FBI Offers Reward for Hamilton Man
Hamilton Police Department assists FBI in search for man who frequents Hamilton
July 13, 2022 at 1:44 p.m.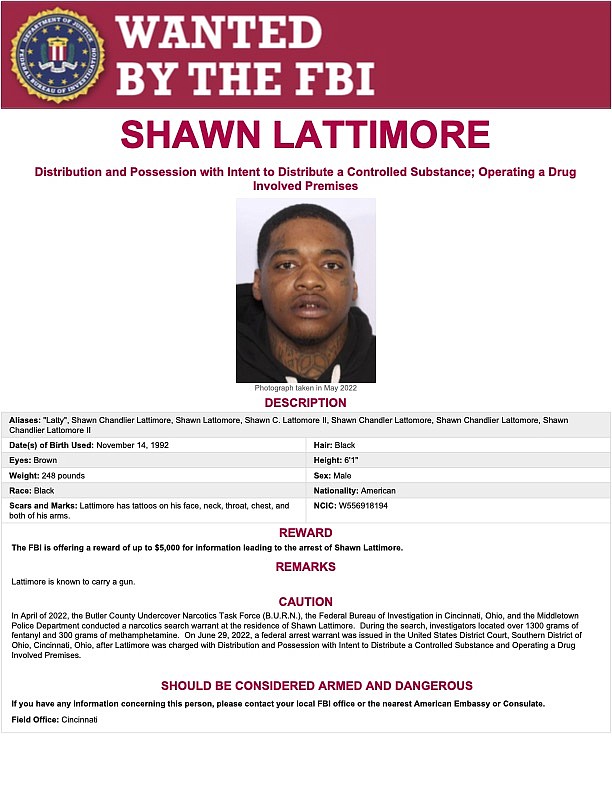 ---
---
29 year old Shawn "Latty" Lattimore is known to carry a gun and frequent Hamilton, the FBI announced up to a $5,000 reward for information leading to Lattimore's arrest. Lattimore is considered Armed and Dangerous and is described as a 6'1 black male weighing 248 lbs with numerous tattoos.
The FBI says, "In April of 2022, the Butler County Undercover Narcotics Task Force (B.U.R.N.), the Federal Bureau of Investigation in Cincinnati, Ohio, and the Middletown Police Department conducted a narcotics search warrant at the residence of Shawn Lattimore.  During the search, investigators located over 1300 grams of fentanyl and 300 grams of methamphetamine.  On June 29, 2022, a federal arrest warrant was issued in the United States District Court, Southern District of Ohio, Cincinnati, Ohio, after Lattimore was charged with Distribution and Possession with Intent to Distribute a Controlled Substance and Operating a Drug Involved Premises."
To submit an anonymous tip to the FBI, visit their Anonymous Tip Line Website or contact the Cincinnati FBI Office at (513) 421-4310.